Parish History
50th Anniversary of the Parish 1959 - 2009
The appointment of Father Frank McGowan in 1959 marked the beginning of Christ Church parish. Since 1947 a monthly Mass had been celebrated in an upper room at the Heald Green Hotel but by 1952 the Catholic population had increased so Father Houghton of St. Chad's celebrated Mass weekly.

In 1957 he announced after Mass that he had purchased land on Finney Lane for the future building of a church. Parishioners immediately formed a Steering Committee to prepare for the arrival of a parish priest. Six of those pioneers, two of whom are still parishioners, were awarded the Bene Merenti for their committed service to Christ Church. Father McGowan celebrated his first Mass on August 30th 1959. As the congregation was now too great for the upper room at the Heald Green Hotel, Father realized the urgent need for a new meeting place.

The Church HallThe Hall was built and the first Mass was celebrated there on Easter Sunday 1960. The foundation stone of the church was laid in July 1961, the inaugural Mass celebrated on December 8th 1962 and the formal opening and blessing by Bishop Grasser in January 1962.

Father McGowan's theme for the church was 'My house is a house of Prayer' he sought to create an atmosphere of peace and love. His vision was of a strong simple interior relying on wood and stone for its focused impact, but he also commissioned artists and craftsmen to work with modern materials - stainless steel and fibreglass. Eddie Blackwell designed the tabernacle, monstrance and altars. Michael Gibbons carved the pews and altar furniture and J E Nuttgens designed the stained glass Stations of the Cross.

Over the years three assistant priests, Father Michael Lester, Michael Hartley and John Hovington served with Father McGowan, later on Father Harry Stratton also helped with the weekend Masses. In 1994, on the occasion of his Golden jubilee, Father was made Honorary Canon of the Cathedral Chapter. he retired that year but lived in Heald Green and celebrated Mass at St. Ann's Hospice each week until his death in 2000.

In 1994 Father Peter Burke succeeded Canon McGowan as Parish Priest. he introduced the Parish Council, the RCIA course, the Children's Liturgy and increased the number of Eucharistic Ministers and readers. Father Peter led memorable pilgrimages to Rome, Assisi and the Holy Land. he encouraged John Brady to study for the Permanent Diaconate. John was ordained in 1999 and served the parish until his death in 2008.

Father Ambrose Nicholson (1999 - 2007) was our third Parish Priest. he reordered the church , making use of and enhancing its original materials, and supervised its redecoration. Under his care parishioners enjoyed pilgrimages to Knock, Iona, Lindisfarne and Canterbury. During this time Father Michael Dyson retired and came to live in Heald Green, where he plays a valued part in parish life.

In 2000 our Millennium project was to raise money to help build the Church of the Holy Rosary in Uchira in Tanzania East Africa. To date we have raised £23,000. Christ Church was represented at the opening ceremony in 2008 and the lovely tapestry in church celebrates the ongoing support and friendship between the two parishes.

Today Father Paul Lomas is the Parish Priest. He has completed the reordering and the sanctuary has new furniture carved from wood which matches the original. The Hall remains the meeting place for parish activities and has been modernized and refurbished. The tradition of pilgrimages is thriving and a group is looking forward to Oberammergau next year.

Throughout the fifty years parish life has flourished with many groups providing for a range of ages and interests. It has been served so well by so many parishioners who have given generously of their time and talents to enhance the liturgy and worship. In the community the parish serves St. Anne's Hospice, Cheadle Royal Hospital and works successfully with 'Churches Together'. For parishioners the church remains as Bishop Grasser described it:
"A spiritual home where we meet together and come to pray"
The Golden Jubilee year began with a Celebration Mass on Sunday 30th August 2009 at which Bishop Brian Noble presided. Mass was followed by a lunch for one hundred and thirty people at the Hallmark Hotel in Handforth.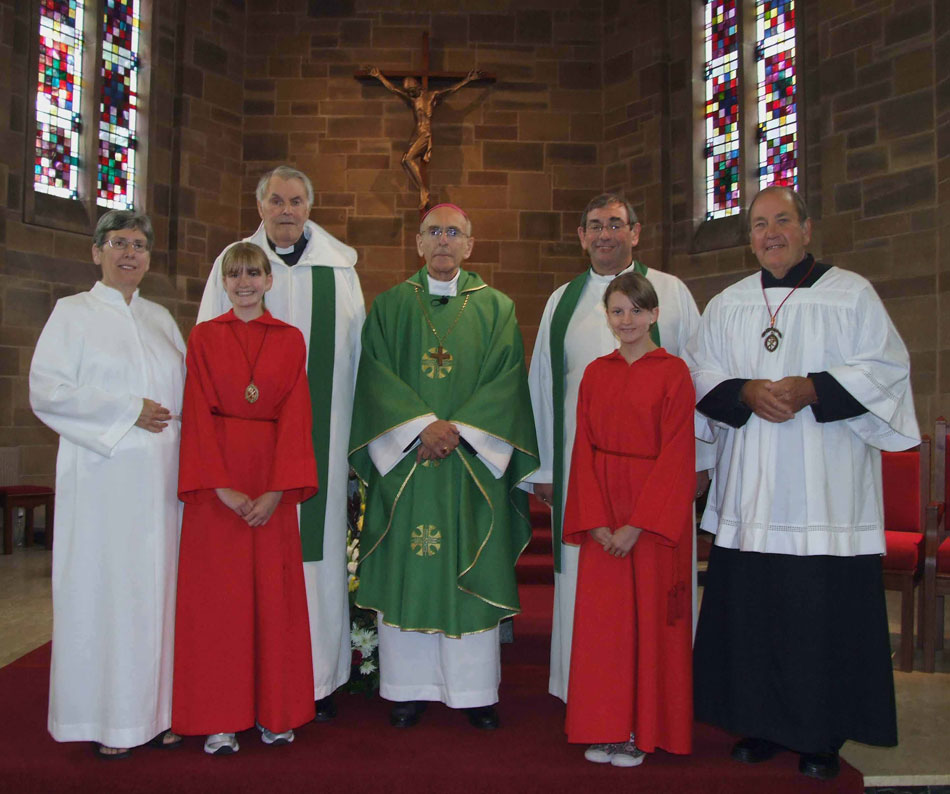 Bishop Noble with the concelebrants Father Paul Lomas and Father Mike Dyson with the Altar Servers
Throughout the year there will be events for all the various groups to mark this important anniversary:- including a Harvest Meal in the Parish Hall. a picnic for the children and trips and outings. We look forward to meeting and praying together in our Spiritual home in the years to come.
An Anniversary Prayer
May God who has given us fifty years of this parish together, of His infinite goodness and mercy continue to bless us and the work we do in His name. May the Father who created us, the Son who redeems us, and the Holy Spirit who sanctifies us, preserve and keep us all our days. The Lord with His favour look upon us, and so fill us with all spiritual benediction and grace; that we may so please Him in this life, that in the world to come we may have life everlasting. Amen
Our Parish Priest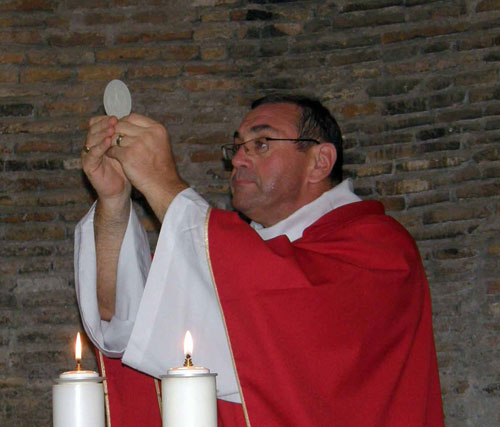 Father Paul Lomas
Sanctuary at Easter
Father Paul Lomas Writes:-
There are not too many married priests in the Catholic Church but since 1992 many former clergy from the Church of England, both single and married have become Catholics. As celibacy was not compulsory in the Church of the England the Catholic Church has dispensed from celibacy those married who sought and have been accepted for ordination in the Catholic Church. I am one of those priests allowed by Rome to be both married and a priest.

I was raised in Droylsden where my parents, Joan & Roy, still lived until 2015, mum died in October that year and Dad moved to be with us. I was brought up in the Church of England. From very early in my life I became much involved in the life of St. Andrew's Church in Droylsden. I was an altar server, a Sunday school teacher and eventually a Licensed Reader.

It was at the Youth Club there that I met my future wife, Andrea. She was fourteen and I was sixteen when we went on our first date! I trained as a teacher of chemistry and taught in Salford. We were married in 1975. Our son, Andrew was born in 1976 and daughter, Claire was born in 1981.

I gave up teaching in 1979 and became a salesman. Over the next ten years I sold engineering products and eventually mobile telephones, rising to the role of sales manager.

I had always felt a calling to the priesthood in the Church of England, but only tested this vocation in the eighties. I was recommended for training and was ordained in 1989. I became curate in St. Margaret's Hollinwood and after three years became Rector of the Holy Family in Failsworth.

These were both "high" Anglican parishes and I considered myself a catholic working in the Church of England. My great dream was that the Church of England would once again become part of the Catholic Church. While at Holy Family I began to realise that this dream wasn't likely to happen and so decided that I needed to be a Catholic in the Roman Catholic Church. Andrew had become a Catholic in 1996 when he was at university and at Easter 2001 Andrea, Claire and I were received at St. Joseph 's in Sale. My parents were also received into full communion in 2005.

Bishop Brian appointed me as assistant at St. Joseph's in Sale .

I enjoyed tremendously my time with Mgr Peter Walton and the people of St. Joseph's, particularly my time spent with the young people in the parish and at St. Joseph's Primary School, along with Blessed Thomas Holford Catholic College in Altrincham, where I was chaplain. Also, during the last two years, I have been involved with Loreto School in Altrincham and St. Ambrose College in Hale Barns.

On November 22nd. I celebrated ten years as a Catholic Priest in the Diocese of Shrewsbury. Despite my left leg being in plaster I was able to clumsily stagger into the sanctuary to celebrate Mass on the evening. I stumbled on the way up the steps and slipped on the way down at the end of Mass, so that has been the only occasion I have said Mass in church since the operation. It was marvellous to be joined in the sanctuary by Fr. Mike Dyson and Deacon Andrew. After Mass we had a terrific party in the parish hall.

In September (7th) 2014 it was the sixth anniversary of my arrival in Heald Green. On that day we had the bishop's visitation, when Bishop Mark spent the weekend with us all. At the 11 a.m. Mass he especially thanked Andrea for her support of me in my ministry. This was a wonderful moment for me, to hear the bishop publicly thank Andrea was an acknowledgement of her importance to me, not just as a wife but as a support to my ministry. Fr. Paul always maintains he could not have done what he has done in his life without the love, friendship and support of Andrea. Not to mention the careful criticism when he has needed it! We look forward to many more happy years of ministry here in Heald Green.
Gallery
Pictures of the Church - Click on each image to enlarge it.
Roman Catholic Publications
The Order of Mass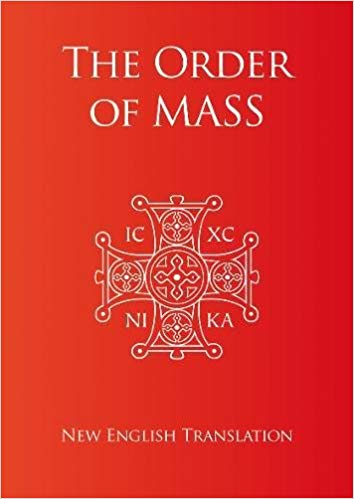 The book might be of interest with the New Roman Missal due to be taken into general use in Advent of this year
With the beatification of Cardinal John Henry Newman by Pope Benedict on September 19th during his visit to the UK the following books might be of interest to parishioners